Cigar Box Guitars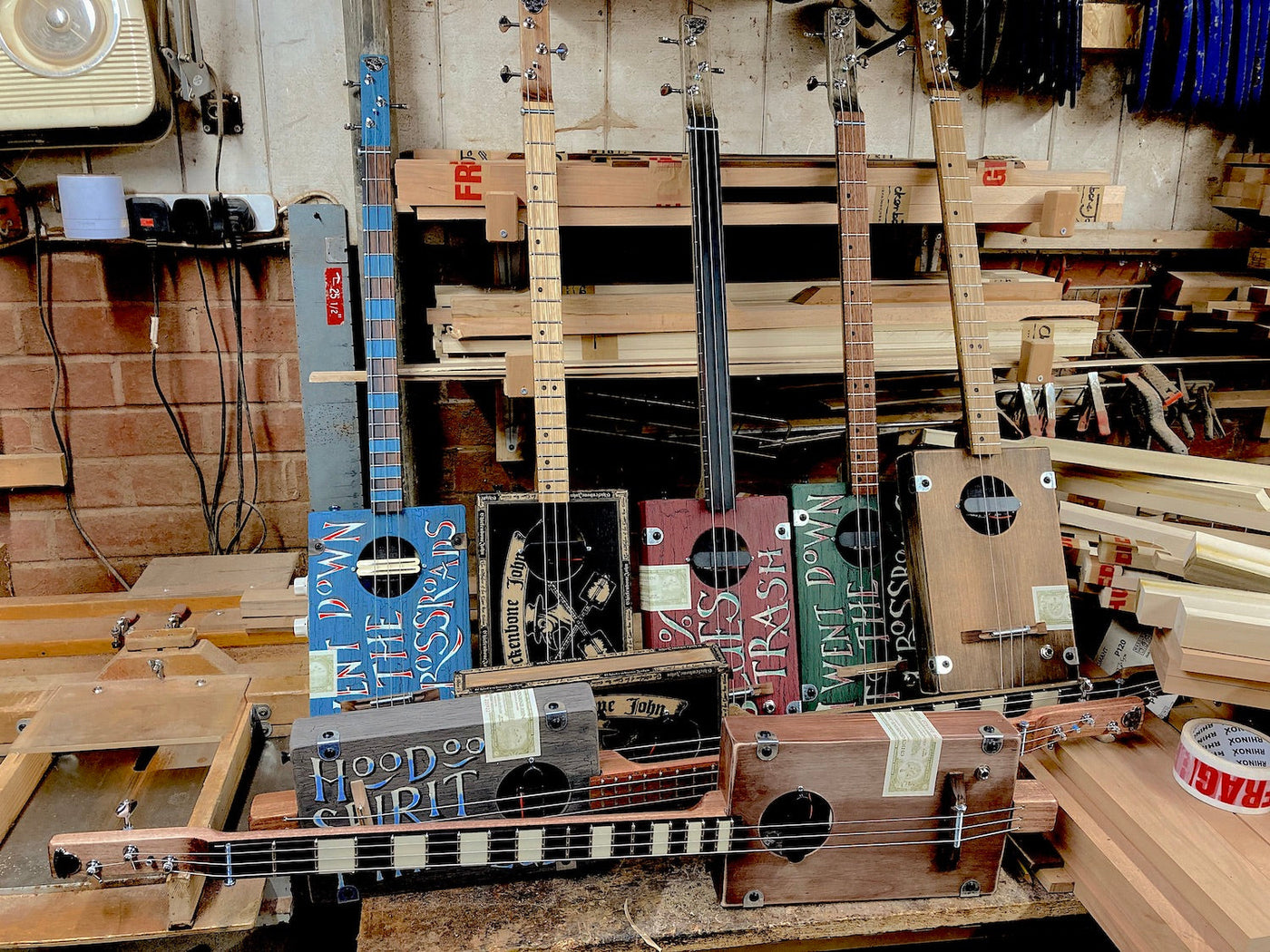 We are currently in the process of building about 20 guitars both Workshop Series and Humbucker Cigar Box Guitars which will be ready before Christmas. If you want to reserve one for Christmas or want a custom design workshop guitar please phone or drop us an email. 
The original and best! That's no empty boast - I've pioneered the making of cigar box guitars in the UK. I have made and sold over 2000 of them, and have been featured in the UK music press, and on UK & European TV & radio.

All my guitars are set up for easy fretted and slide playing - I'm a guitar player, so I understand how a guitar should perform. I source the best components for the price, and carefully craft them into truly gig-worthy instruments, with unparalleled playability and tone.
I build to a quality, not down to a price - wherever possible I use European and North American timbers. I also use European and USA made components such as Van Gent machineheads & fretwire, d'Addario and Newtone strings, Van Damme cable, Neutrik & Switchcraft connectors etc, instead of relying on cheaper "sweatshop economy" parts.
We now have our own range of custom made stainless steel parts featured on some of our guitars - tailpieces, jack sockets and control plates. These are designed by us and manufactured right here in the UK West Midlands. 
We ship guitars worldwide, and all our guitars are packed with care, double-boxed in custom made twinwall corrugated card boxes. When ordering a guitar please include a phone number with the delivery information. 
CUSTOM ORDERS - We are pleased to announce that we are once again taking orders for custom guitars. If you can't find a guitar that you like on our site, or have seen one of our earlier guitars that you'd like, we can make one for you!  We ask for 50% deposit, and delivery time is typically 2-3 months. We can advise on specification and special features, and will give you a fixed price quote, including shipping anywhere worldwide.
Cigar Box Guitars