Summer 2023 Festivals
Summer 2023 Festivals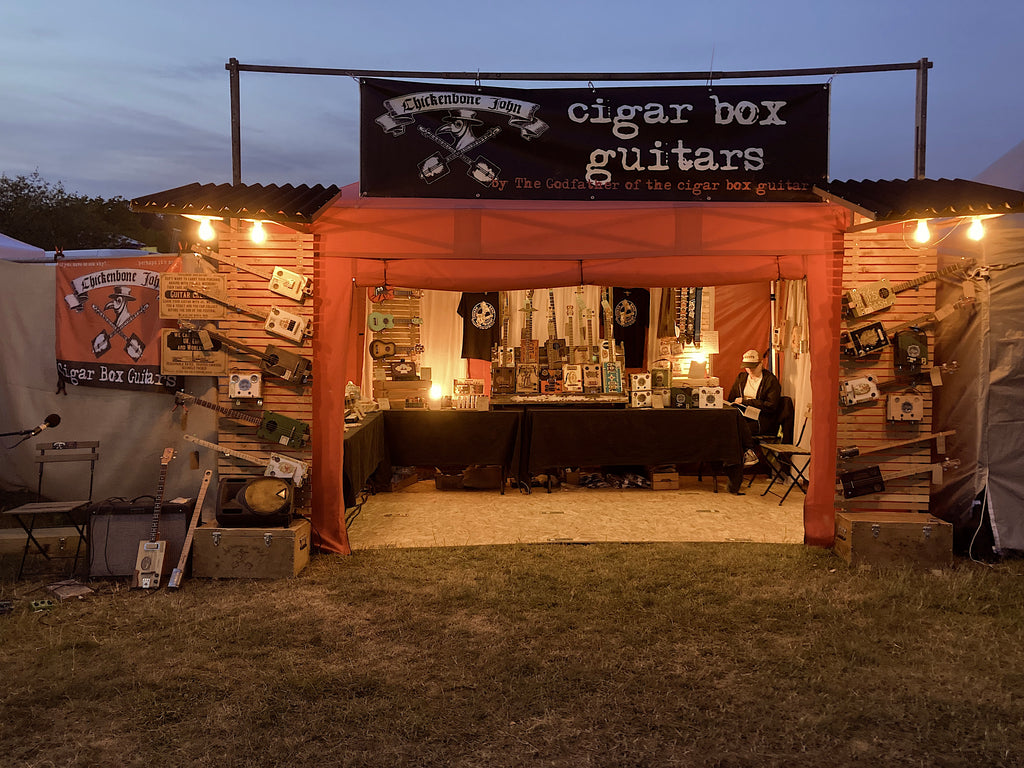 This year we decided to get back into doing some festival events. We got offered a spot a Glastonbury, but despite having already done it three times, we decided to turn it down as the pitch we were offered wasn't good for us, and as we'd asked for a wider stall frontage and more staff, the price was getting a bit high for us. A bit of  asking around and we secured a place at Black Deer Festival in Kent. We reckoned this might suit us, as it's an Americana festival, so already was potentially right up our street, and it lived up to our expectations. Not a huge event at around 20,000 people, we had a lot of interest and plenty of sales, and we heard some great music - I managed to take an hour off and see Bonnie Raitt on the main stage.
It's a very cool event, great bars, barbecue pit food stalls, vintage American cars, a whole Harley Davidson dealer's section, funfair, and lots of nice people and great music.  I did an impromptu  Sunday morning "Gospel Hour Show" from our stall. The weather was on the whole pretty good and we went home well pleased with the experience.
We had nearly three weeks before our next event, another Americana themed festival, Maverick in Suffolk, much smaller, but a nice event to go to.
I was surprised and please to meet up with Jason Thompson, who was performing, and who I last met at a Van Thom Weekender in  Bremen.
Being a small event, meant that there was plenty of contact with the performers.
Canadian singer Evangeline Gentle dropped in to ask if I could fix her guitar, which I did, and then I went to listen to her set.
The Burner Band from Leeds invaded our stall and jammed with me - great fun and it attracted plenty of attention. I also did a learn to play cigar box guitar workshop and the place was packed!
We were also joined in thew jam by Radiator Rick, harp player with Debbie Bond from Alabama. Debbie was very supportive and said she could put me in touch with the Huntsville Cigar Box Guitar Festival in Alabama, which was very nice of her.  I've now been in touch with them, so we'll see what happens.
A couple of weeks later was Birmingham Jazz and Blues Festival, right on the doorstep, and I had some cracking gigs, solo, duo and with the full band.
The Wellington pub, with Ricky Cool on harp
Birmingham Rep Theatre cafe bar
At Birmingham's poshest furniture store, Lee Longlands on Broad Street.
Henry's Blueshouse, full band with Tony Stokes on harp
Straight after the Jazz Fest was another event near home, a weekend at the Upton upon Severn Blues Festival. Unfortunately the location on the campsite was far from ideal, and the weather on Saturday didn't help, but at least we were close to home, so we bottled out and went home every night instead of camping! It was handy for a bit of networking, and I reckon I've got a new act for next year's Boxstock sorted.
Another couple of days in the workshop and then and we were away up in North Yorkshire for the family friendly Deershed Festival. Sadly, the crowds seemed down in number compared to previous years, and the weather was very changeable over the weekend, but we managed to survive it and make a little money. It seems that a lot of traders are finding things difficult...prices for pitches have gone up, money is tight for people attending, so times are pretty hard.
So that was our summer season...very, very tiring, but overall a positive experience, we just need a few days to recover and we'll be steering towards our next objectives of preparing for Christmas and getting next year's Boxstock organised, plus the possibility of a trip to Alabama...and we need to take a proper holiday!